The WAM Tropicana Club is a vehicle in Just Cause Unity.
Description
Edit
It is a large, poweful muscle car that has stole the hearts of even JDM fanboys (Note: Myself included). It is based off of the AMC Javelin AMX and the name is a reference to Wham! - Club Tropicana. Mario Frigo owns a unique modified one with a blower, large drag tires and an upgraded engine, it is given to Rico after the side mission: Bar Fight .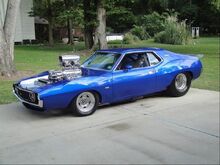 Performance
Edit
Like any muscle car, it is quick in a straight line, but pretty bad around corners. Mario's is even worse round corners but mental on a straight.