The STN A6-7D Hrom X is a helicopter in Just Cause Unity.
Description
Edit
The STN A6-7D Hrom X is mainly based on the MH-53 Super Jolly Green Giant.
Frigo and Etcetera description:
"Well known for being an amazing heavy lifter, STN took the Urga Hrom D and updated it so it can lift something as heavy as an Urga Hroch."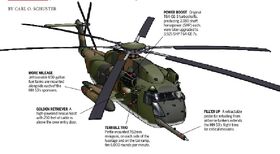 Mission appearances
Edit
It's made by the company STN.