The Mugello Sicario Series Armoured Vehicles are a series of armoured vehicles in Just Cause Unity.
Description
Edit
They are based on the Lamborghini LM002, but the S12D7BV Medici has hints from the Lamborghini Urus. They have a boxy design, and in the case of the S12D7BV and S12D7, they have a mounted 12.7 mm gun. They military variants are higher off the ground than the civilian variants.
Sicario S1L3 Scout
Edit
This is the most basic variant, it comes in a civilian and military variant. It is the second quickest out of the three, only being beaten by the S12D7BV. It chases after Rico at Heat Level 3. The civilian variant is as rare as the civilian Weimaraner.
Rarity
Civilian:
Rare
Military:
Common
Sicario S12D7 Mount
Edit
The S12D7 is a version of the Sicario with a mounted 12.7mm gun. It is capable in almost any situation. It also has better armoured windows.
Rarity
Civilian:
Military:
Uncommon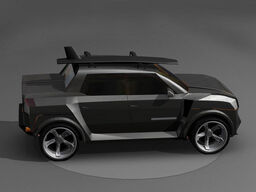 Sicario S12D7BV Medici
Edit
The S12D7BV Medici is a version of the Sicario with a mounted 12.7mm and a Bavarium shield. It is the most capable and modern version, but is very rare.
Rarity
Military:
Rare
It's made by the fictional company Mugello.