The Kazuma 何 か is a truck in Just Cause Unity.
Description
Edit
It is a large dekotora truck, emblazoned with chrome, a crazy paintjob and many, many, many lights. It has not been crashed into once.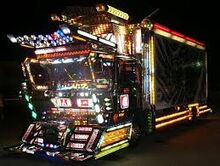 Performance
Edit
Slow, due to the added weight and a stupidly weak engine. Cars will move out the way at night due to how bright the truck is, it can cause... large accidents.
The name is pronounced as "Nani ka" meaning "Something"
It's made by Kazuma.
Ad blocker interference detected!
Wikia is a free-to-use site that makes money from advertising. We have a modified experience for viewers using ad blockers

Wikia is not accessible if you've made further modifications. Remove the custom ad blocker rule(s) and the page will load as expected.