Just Cause 4: Karthstan is a fan fiction project created by QWTF spy for a Just Cause 4.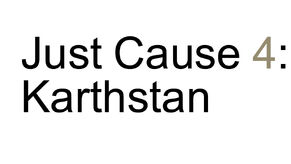 Taking place in the fictional Middle Eastern nation of Karthstan, it centres around Rico and Maria Kane overthrowing democratically elected dictator Said Farrah and stopping a conspiracy involving the Agency and Tom Sheldon. There will be a total of 75 story missions, making the story 35 hours long, therefore, the longest Just Cause game. Just Cause 4: Karthstan is a prequel as it takes place a year before the events of Just Cause 3. As JC3 takes place in 2015, JC4: Karthstan will be set in 2014.
It will run on an updated Just Cause 3 engine, and it will reuse some assets from Just Cause 3.
It is frequently called "QWTF spy's JC4".
Factions in JC4: Karthstan
Edit
These are the factions looking to hire Rico, before the final mission, you choose a faction to pledge true allegiance to. This list will exclude Karthstan Military, Karthstan Police Department, and Alnsur Alrraed.
The Karthstan Republican Socialist League is communist faction looking to turn Karthstan into a Stalinist country. Their leader is Fadel Cisto.
Corestar
Edit
Corestar is a corrupt corporation looking to place a puppet government to turn a profit. Their leader is Parker Chapman.
The Rahmani
Edit
The Rahmani is an Islamic terrorist group that intends to turn Karthstan into an Islamic Republic. Their leader is Mubarak Farrah.
The People's Democratic Group of Karthstan is a faction looking to restore the Karthstan democracy before Said hijacked it. Their leader is General Khairi.
This is the first Just Cause game to set in the Middle East.
Ad blocker interference detected!
Wikia is a free-to-use site that makes money from advertising. We have a modified experience for viewers using ad blockers

Wikia is not accessible if you've made further modifications. Remove the custom ad blocker rule(s) and the page will load as expected.