The
Dennis Longhorn
is a vehicle in
Just Cause: Paradiso Islands
.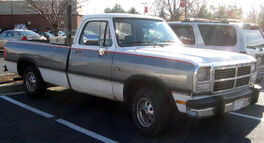 It is a basic pickup truck, modeled after the Dodge Ram. It only has a top speed of 92 mph, and has a slow acceleration. It is very common, like the Mann Tanzer, and can be found almost anywhere.
Military
Being as capable as it is, the Longhorn is one of the main vehicles used by the military,
however is rare as a patrol vehicle. It is guaranteed to be found in EVERY military variant at
Chekov Point
. The military variant has more armor.
Ad blocker interference detected!
Wikia is a free-to-use site that makes money from advertising. We have a modified experience for viewers using ad blockers

Wikia is not accessible if you've made further modifications. Remove the custom ad blocker rule(s) and the page will load as expected.