Damon Dodge
, nicknamed "Iron Claws" by his friends, is a character in
Just Cause: Paradiso Islands
.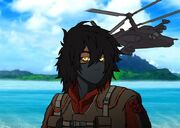 Backstory
Edit
All we know about Damon previously to the game is he was in the P.I.M. from 1994-2001. He earned the name "Iron Claws" from his skill with a knife.
Damon is an all around good companion, even better than Jack Harris in some ways. Because his main weapon is a Emperor A45 Omega, he can deal impressive amounts of damage, even at long range. No matter the situation, if you call Damon in for backup, he will always show up. Another good quality about him is that he is the most durable companion that Rico has available, even stronger than Damien Tager.
Damon is Jack's best friend in TME, since he knew Damon the longest. During the mission 1989, it is seen that Damon died as well as Jack and Collin on July 12th, 1989, which freaks him out. As so, he, Mika, and Collin are the best people to comfort him, due to them being there as well. In Killer Thought, Damon is the one killing Joey, however it is through his dreams, although he doesn't remember said dreams. In Total Score, he is the backup Jack is given to fight the soldiers at Alpha Electric, as well as the transport. After the mission, he tells Jack about trying to hit on Mika, which he is suprisingly okay with. Afterwards, he drives off.
His original name was Uranei Donbass.
Ad blocker interference detected!
Wikia is a free-to-use site that makes money from advertising. We have a modified experience for viewers using ad blockers

Wikia is not accessible if you've made further modifications. Remove the custom ad blocker rule(s) and the page will load as expected.