The
Chieftain Dark Prince
is a vehicle in
Just Cause: Paradiso Islands
.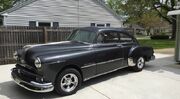 Even though Jack Harris seems like a busy man, with the help of some friends he managed to import a 1949 Pontiac Chieftain, send it to Chieftain, and have them produce it as a mass-production vehicle. It has a top speed of 85 mph, and was a selling competitor to the Potomac Royal. Only one Dark Prince exists in the world, and it is owned by Jack himself, and is therefore found at his garage.
It's made by the fictional company Chieftain.
Ad blocker interference detected!
Wikia is a free-to-use site that makes money from advertising. We have a modified experience for viewers using ad blockers

Wikia is not accessible if you've made further modifications. Remove the custom ad blocker rule(s) and the page will load as expected.