Chekov Point
is a military area in
Just Cause IV: El Patrick
. It is a old power station,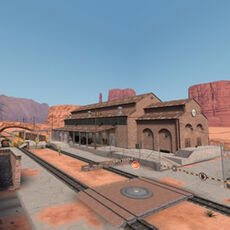 now controlled by the EPM
It is an old power station, now in the control of the EPM. The area is fairly big, and has alot of destructibles. Commander Wolbers resides here, inside of the Redstone Cargo builsing.
Entrances
The area has multiple entrances, all guarded by PIM Soldiers and a military Nellis Redneck or Dennis Longhorn. The entrances have weapon cabinets as well. The gates will be down as well, so you will need to break them to get through. A mounted DJW Sledgehammer may be at the entrances as well.
Destructibles
Generators x 20
Radio Tower x 3
Transformer x 12
Fuel Tanks x 5
Buildings
Edit
There are multiple buildings, each with their own collectibles. Said buildings and collectibles are:
Building 1: Large power building near railroad.
Collectible: Hood for Roadmobile 1939
Building 2: Old Redstone Cargo building, holding most of the Generators and Transformers.
Collectible: 1 of 5 parts needed to get the Abraham 1868. This is the building where Commander Wolbers is located.
Building 3: Alpha Electric building holding the last 5 Generators and 7 Transformers.
Collectible: 1 of 2 notes for Marienfield Tager.
Building 4: Old wooden tower.
Collectible: DJW Sledgehammer.
Building 5: BluJay Incorporated building, housing multiple military MVs and Rednecks.
Collectible: 2 of 2 notes for Marienfield Tager.