The
Castro Trifecta
is a vehicle in
Just Cause: Paradiso Islands
.
It is a two-door muscle car, based on the Mercury Cyclone CJ. It is the third fastest muscle car in the game, having a top speed of 147 mph. It was produced to be a Just Racing muscle car class vehicle out of the factory, and had a good run in it's day, along with the
Mann Chimaera
, however newer vehicles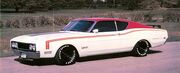 outclassed them in multiple ways. Nowadays, the car is being collected and restored by it's owners, therefore being a rare sight in the area. As his father was one of the drivers of thes cars,
Jack Harris
owns the one he drove, and gives it to Rico at the end of the game for all he has done.
It's made by the fictional company Castro.
Ad blocker interference detected!
Wikia is a free-to-use site that makes money from advertising. We have a modified experience for viewers using ad blockers

Wikia is not accessible if you've made further modifications. Remove the custom ad blocker rule(s) and the page will load as expected.