The
Berwick Centurion
is a vehicle in
Just Cause: Paradiso Islands
.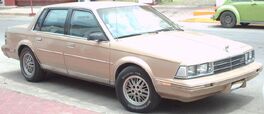 It is a basic sedan, modeled after the 1983 Buick Century. While being a old sedan, it is "the most reliable car on the Islands" and is NEVER seen broke down. It has a top speed of 95 mph, and is found anywhere. Damon "Iron Claws" Dodge can occasionally be seen driving one instead of his Mann Predator when calling for backup from him.
Ad blocker interference detected!
Wikia is a free-to-use site that makes money from advertising. We have a modified experience for viewers using ad blockers

Wikia is not accessible if you've made further modifications. Remove the custom ad blocker rule(s) and the page will load as expected.