Bering is a fictional corporation featured in multiple fan fiction projects. 
In Just Cause: Hjallesund, Bering is mainly based on Russian aircraft manufacturers Ilyushin, Tupolev and Antonov. They only produce one aircraft, a twin-jet airliner.
Just Cause Unity
Edit
In JCU, they are very similar to JCX's depiction (They're the same universe).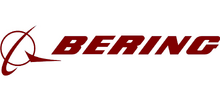 In JCX: Global eXchange, Bering corporation is based on the American Boeing company, a primary rival of Rage-Johnston, just like the real life Boeing is competing with Lockheed Martin. In this dimension, Bering is secretly controlled by the Illuminati, a group of industrial moguls which use the Black Hand as its private military force. They are selling many of their products on a "black market" for rogue states.
The logo remains the same in 2024 (see above) as it was in 2020.
(No description available)
List of products
Edit